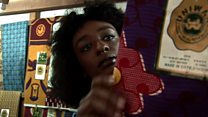 Video
Women of Africa: Beyonce fashion designer on her Ivorian creations
Ivorian fashion designer Loza Maleombho is in the spotlight after one of her designs was spotted in Beyonce's latest music video.
The outfit is worn by a dancer in the video for the US singer's song Formation.
Ms Maleombho started her fashion brand in New York, but later relocated production to Ivory Coast.
Her designs are now stocked in Nigeria, the UK and the US.
Women of Africa is a BBC season recognising inspiring women across the continent. The second series, Africa's New Businesswomen, introduces eight female entrepreneurs who are finding success in their country - and beyond.
Go to next video: Shoemaker invests in disabled artisans