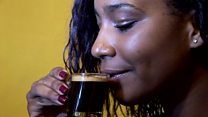 Video
Entrepreneur milks new coffee trend in Ivory Coast
Fabienne Dervain is the owner of what she says is the first real coffee shop in Ivory Coast, one of the biggest coffee bean producers in West Africa.
Other than Ethiopia, where coffee was discovered in the 9th Century, domestic consumption of coffee in Africa is relatively low compared to other emerging markets. But this is slowly changing.
Starbucks is due to open its first store in Johannesburg in the first half of this year, while US doughnut and coffee giant Krispy Kreme has plans to open 31 stores in South Africa over the next five years.
But Ms Dervain, 27, wants to beat the multinationals at their own game. Having set up Couleur Cafe in Abidjan with about $60,500 (£40,000) in personal savings and family investment, she plans to set up a chain.
Women of Africa is a BBC season recognising inspiring women across the continent. The second series, Africa's New Businesswomen, introduces eight female entrepreneurs who are finding success in their country - and beyond.
Go to next video: Solar bags brighten SA pupils' lives