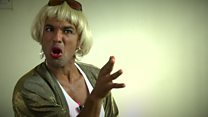 Video
What's Up Africa: Satirist fights stigma with HIV-positive beauty queens
Tuesday was World Aids Day and in the three decades since HIV - the virus that causes the disease - was identified, there have been many advances in medical treatments.
But not in the stigmatising attitudes towards HIV-positive people.
In Uganda, a group of young men and women are aiming to change all that. Satirist Ikenna Azuike went to meet them in Kampala.
Satire series What's Up Africa is a BBC and RNW Media co-production.
It's broadcast on Wednesdays and Fridays on Focus on Africa on BBC World News & partner stations across Africa from 1730GMT.
Go to next video: Satirist: What not to wear in Zimbabwe