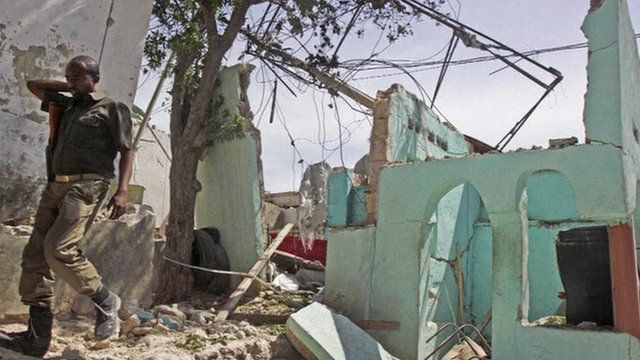 Video
Somali bomb explodes near UN convoy - in 15 seconds
At least four people have been killed in a car bomb blast next to a UN convoy in Somalia's capital, police say.
The bomb exploded as the convoy travelled along the road near the airport in Mogadishu, police said.
A second blast targeted African Union (AU) troops about 25km (15 miles) from the city, but details are sketchy, a BBC reporter says.
Al-Shabab, linked to al-Qaeda, has often carried out attacks in Somalia and neighbouring Kenya.
On Tuesday, it killed 36 quarry workers near the northern Kenyan town of Mandera.
It has not commented on the latest explosions.
Here is the story - in 15 seconds.
Go to next video: In 60 secs: Who are al-Shabab?