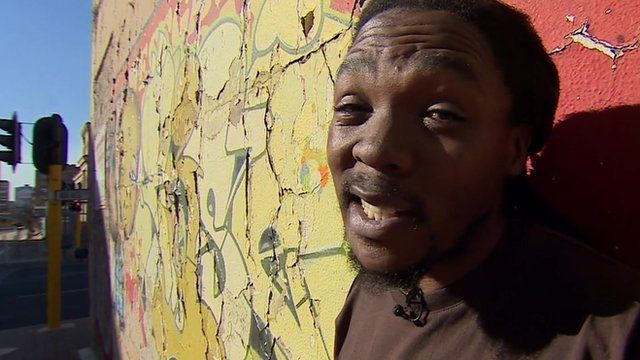 Video
'We call this city Johustleburg'
Johannesburg may be renowned for its place in the history of apartheid but it has also been known for its crime rate.
It is a city that encompasses the smart shopping malls of Sandton at one extreme, and the shabby township of Alexandria at the other.
Neighbouring Soweto, home of both the Mandela and Tutu families, has always attracted attention and tourism, but Johannesburg has suffered in comparison.
The city is enjoying a period of prosperity and growth, but some of the old problems remain.
Thabiso "Afurakan" Mohare is a Johannesburg-based street poet.
His poem - The Streets Have Lips - tells of the struggles and rewards that come from the streets of downtown "Joburg".
Afurakan spoke to BBC News about the realities of daily life in the city he calls Johustleburg.
Go to next video: Why are South African mothers donating their milk?