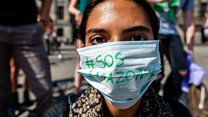 Video
Amazon fires lead to worldwide protests over Brazilian government inaction
Demonstrators gathered outside Brazilian embassies on Friday to protest against inaction on Amazon wildfires.
Hundreds came together in cities including London, Madrid and Bogota, calling for Brazilian leader Jair Bolsonaro to act.
President Bolsonaro has since ordered the armed forces to help tackle the forest fires.
The Amazon is experiencing its highest number of fires since 2010. It's the largest rainforest in the world and a vital carbon store that slows down the pace of global warming.
This article initially stated there was a record number of fires in Brazil this year. After more satellite data was made accessible, it has been updated to reflect the fact the fires are instead the worst since 2010.
Go to next video: Spike in wildfires in Brazil's Amazon rainforest