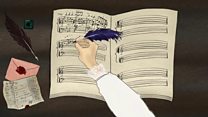 Video
The unsung life of the composer Fanny Mendelssohn
BBC 100 Women is celebrating talented women from history whose work has been overshadowed by their male relatives.
Fanny Mendelssohn composed more than 400 works of music, most of which were unpublished in her lifetime. Some of those that were, were published under her brother's name.
Watch more stories here of women who should have been better credited by their husbands, brothers or fathers.
You can find us on Facebook, Instagram and Twitter and use #100Women.
This article has been amended to clarify that Fanny Mendelssohn published some work in her lifetime under her name.
Go to next video: The school children writing an opera