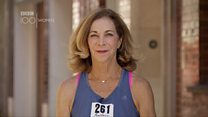 Video
100 Women: Kathrine Switzer, 71, to run 42nd marathon in London
Kathrine Switzer is 71 and this Sunday she will run her 42nd marathon.
It's the first time she's taking part in the London Marathon and for Kathrine, it's extra special to run on the same streets where women marched for the right to vote, 100 years ago.
In 1967, Kathrine became the first woman to officially run the Boston Marathon, at a time when women simply did not compete over long distances.
She's gone on to advocate for women's running and was instrumental in getting the women's marathon into the Olympics.
Filmed by Jack Slater, produced and edited by Georgina Pearce.
What is 100 Women?
BBC 100 Women names 100 influential and inspirational women around the world every year. We create documentaries, features and interviews about their lives, giving more space for stories that put women at the centre.
Follow BBC 100 Women on Instagram and Facebook and join the conversation.