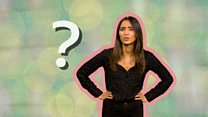 Video
Non-disclosure agreements have been in the news a lot - but what exactly are they?
The term NDA, or non-disclosure agreement, has been in the news a lot in the last few months, most recently in connection with adult film star Stormy Daniels, who claims she signed one with the US president's lawyer.
But what exactly are NDAs, also known as "hush agreements"? And do they exploit women or empower them?
The 100 Women team examine what is entailed in signing one, and the extent to which they play a role in society.
Video Journalist: Jilla Dastmalchi; Presenters: Reha Kansara and Georgina Pearce; Producers: Sarah Buckley and Georgina Pearce
What is 100 Women?
BBC 100 Women names 100 influential and inspirational women around the world every year. We create documentaries, features and interviews about their lives, giving more space for stories that put women at the centre.
Follow BBC 100 Women on Instagram and Facebook and join the conversation.