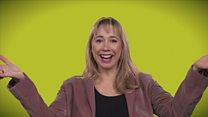 Video
International Women's Day: Witty comebacks to sexist banter
It is a sad reality that sexist jokes and banter continue to be a part of many women's lives.
Sometimes you might wish you had the perfect comeback, so how can you get the last laugh? We asked four comedians - Tiff Stevenson, Ellie Taylor, Desiree Burch and Shazia Mirza - to give us their wittiest responses to common sexist comments.
Video journalist Derrick Evans, produced by Georgina Pearce. With thanks to Funny Women
What is 100 women?
BBC 100 Women names 100 influential and inspirational women around the world every year. We create documentaries, features and interviews about their lives, giving more space for stories that put women at the centre. Follow BBC 100 Women on Instagram and Facebook and join the conversation.
Other stories you might like:
What is International Women's Day?
Why I can't post images of things going wrong
The village where grannies go to school