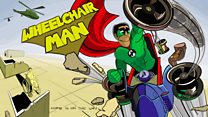 Video
The moment I decided to create a wheelchair superhero
Born in Afghanistan and in a wheelchair by the time he was six, Mohammad Sayed used his initiative and skill to support himself when he was deserted by his father. He ended up being adopted by an American nurse and now lives in the United States. He tells Matthew Bannister about how he was inspired to create Wheelchair Man after a visit to Boston Comic Con (a convention for fans of comics).
He was shocked to see that the wheelchair community was not represented there and decided to create his own character.
"I'm not going to wait for Marvel to do it. I want to celebrate the powers and abilities that wheelchair users have. What makes Wheelchair Man different is that he is all about hope and peace. He is a Muslim, a teenager, an immigrant - and I want the world to know that we as wheelchair users can offer a lot if we are offered the right opportunities."