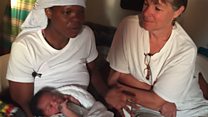 Video
'I gave birth on board rescue ship'
A Nigerian woman has described how she gave birth to a boy on a rescue ship in the Mediterranean, after being plucked from an overcrowded rubber dinghy.
Mother Faith Oqunbor, who was making the perilous journey from Libya to Europe with her husband and two other children, said she could "feel the baby moving" on the "horror" dinghy.
MSF midwife Jonquil Nicholl, who delivered little Newman Otas, said: "Trying to imagine what would have happened 24 hours earlier… it's unimaginable."
Last year, more than 3,700 people are believed to have died attempting the same journey.
Medical charity MSF said because Newman was born in international waters, his nationality was still under debate.
Go to next video: 'My baby was born on rescue ship'