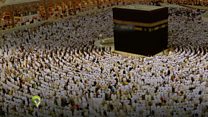 Video
What is the Hajj pilgrimage to Mecca?
Thousands of British Muslim are in the holy city of Mecca for the annual Hajj pilgrimage.
Hajj is one of the five pillars of Islam - mandatory things all Muslims must do during their lifetime, as long as they are physically and financially able to.
Recently, there have been safety fears because of the sheer number of people crowding into Mecca.
It is estimated two million Muslims undertake Hajj each year.
The Victoria Derbyshire programme is broadcast on weekdays between 09:00 and 11:00 on BBC Two and the BBC News channel.
Follow the programme on Facebook and Twitter, and find all our content online.
Go to next video: How Hajj pilgrim 'e-bracelets' work