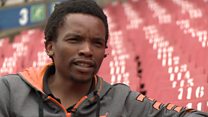 Video
The maths teacher turned professional referee
South Africa's Sevens Rugby team, known as the Blitz Bokker, won the Cape Town leg of the HSBC Sevens World Series earlier this month.
Sevens Rugby is a shorter version of the 15 player union game rugby - it's played by seven players with seven minutes in each half and is known for its fast-paced athletes and noisy fans.
The referees aren't usually in the spotlight, but there is one South African referee who is making a name for himself.
Rasta Rasivhenge is a former mathematics teacher turned professional referee.
He spoke to the BBC about his love for the sport.
Go to next video: Sevens suit smaller nations - Powell