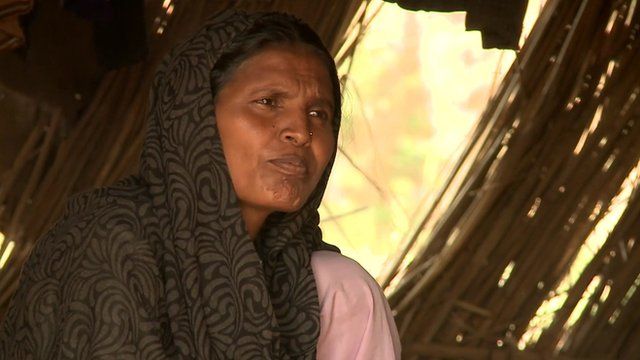 Video
India bride trafficked widow : 'I have nowhere to go'
In India, boys have traditionally been favoured over girls. Routine abortions of female foetuses have led to a gender imbalance across the country.
This is particularly prevalent in the state of Haryana.
In the district of Mewat in Haryana there are 879 women for every 1,000 men against the national average of 927 to 1,000.
Many men cannot find women to marry and bride trafficking has become prevalent.
Girls are bought from their families in other states when they are still young and married to local men. They are often badly treated both within the home and in the wider community where they are seen as outsiders.
Roshini, a trafficked bride now widowed, has nine children and was thrown out of the family home by her in-laws after her husband died.
She lives in a makeshift shack with her children. Her husband's brother visits her and is threatening to marry her.
Produced by Akanksha Saxena. Camera and editing by Neha Sharma.
Go to next video: Bride: 'I was 12 when I was sold in Haryana'