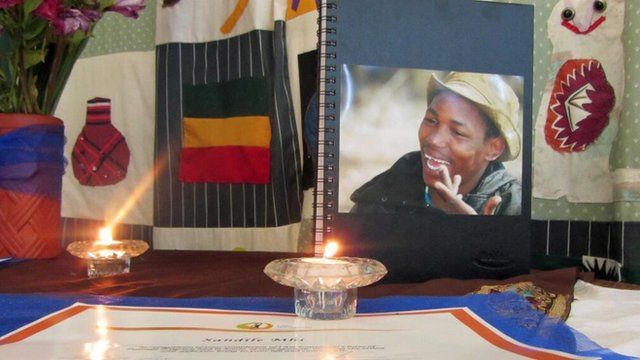 Video
South African man had 'enthusiasm and excitement'
While the preparations are under way for Nelson Mandela's burial, a very different funeral is taking place in South Africa - that of a 22-year-old man from Cape Town, Sandile Mhi.
He is one of many murder victims in the country's run-down townships, after being stabbed in the neck and chest while returning from a night out visiting his family.
Nanthombi, Mhi's older sister, told the Today programme's Mike Thomson: "I heard someone calling me from outside… I opened the door and he was lying there."
She explained that senseless murders happen "every weekend… most of the reported cases are not investigated".
Gerald Jacobs, a youth worker who helped Mr Mhi after he ran away from home, said that he had "a lot of enthusiasm and excitement".
When the boys had the opportunity to meet Nelson Mandela, Jacobs remembered Mhi "jumping up and down and hugging everyone".
Jacobs visited Mr Mhi's old room, where he found a sheet of paper on which he had written, "I see a community where parents are happy and proud of their children, in this community the children have amazing gifts and are inspired to move forward and develop their gifts."
First broadcast on BBC Radio 4's Today programme on Friday 13 December 2013.