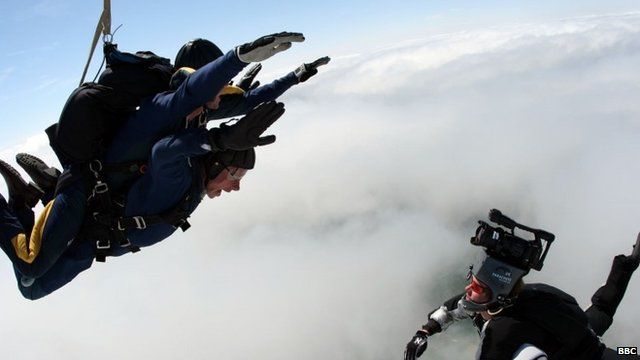 Video
Skydiver: 'Mid-air crash will not deter us'
Details have emerged of how nine US skydivers and two pilots escaped as their planes crashed in mid-air, turning one of the aircraft into a "fireball".
Four skydivers were preparing to jump when their plane collided with another, carrying five skydivers, at 12,000ft (3,600m) in the state of Wisconsin.
Speaking to the Today programme, Mike Robinson, an instructor on the aircraft, explained: "All of the skydivers that were involved are very experienced, so I wouldn't say at that moment it was terrifying.
"It was just that we all recognised the trouble we were in, and reacted to getting to safety as much as we could.
"We tried to just get away from the blast area," he added.
"Bumps and bruises is all we had... This won't stop any of us from skydiving."
First broadcast on BBC Radio 4's Today programme on Wednesday 6 November 2013.