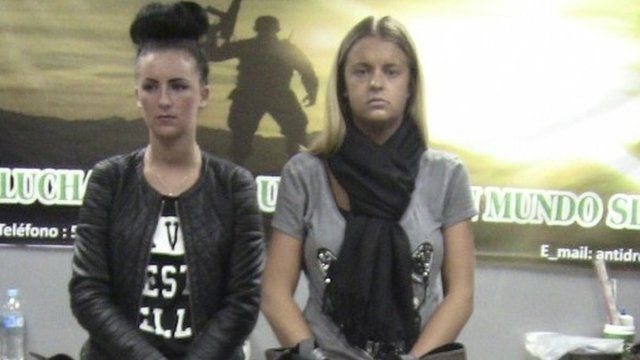 Video
Ibiza girls 'could have been coerced' into drugs move
When two young women from Scotland and Northern Ireland were arrested in Peru last week on suspicion of drug trafficking, they stated they weren't criminals but victims of a violent gang.
Melissa Reid, 19, and Michaella McCollum, 20, are accused of trying to smuggle £1.5m worth of cocaine stashed in their suitcases at Lima airport in Peru.
They denied the accusations, stating a gang had lured them from their jobs on the Mediterranean holiday island of Ibiza, then forced them to attempt a drugs run back there.
The Today programme's Tom Bateman visited Ibiza and met a young British woman working in the area, who preferred to remain anonymous, but stated that people are tempted to deal drugs out there for "easy money".
She said: "You say to a girl, you can have £8,000, she's never had that kind of money, she's never going to have that sort of money. But there's a point when you need to think "this isn't right, get out"".
Dr Jennifer Fleetwood, lecturer of criminology at Leicester University, has investigated the involvement of young women in international drug trafficking.
Discussing the girls in Peru's situation, she explained: "Their experience isn't typical. Looking at the drug trade as a whole we can see that majority of drug mules are male, I think women represent about twenty per cent. However that doesn't mean their story isn't plausible.
"Everywhere we look, everyone who's researched this, has found people who have been coerced."
First broadcast on BBC Radio 4's Today programme on Saturday 17 August 2013.