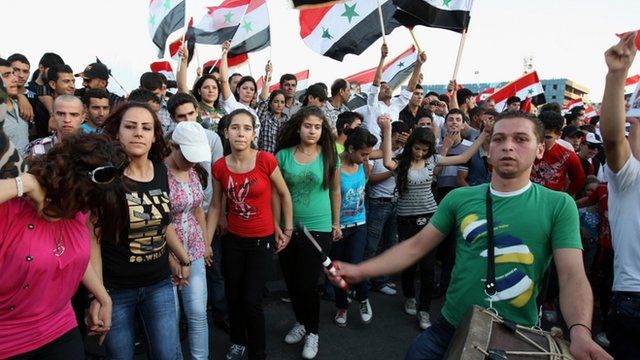 Video
'People want Assad to stay'
Life has become difficult for the residents of Damascus, in Syria, but little is reported of the lives of those in Damascus who support the Assad regime. BBC reporter Zubeida Malik spoke on the Today programme to some of the government supporters in Syria's capital city.
Thirty one-year-old Damascus resident Zenub, a university teacher who supports the Assad regime, explained that her quality of life has deteriorated significantly since the beginning of the uprising: "We are not free to leave our homes. We hear shooting and explosions every night. I feel in danger when the sun starts to set... we are asking for our freedom to live as we did before."
Abdul, who used to work as a teacher and supports the government, says the conflict has affected the economy in Damascus: "A lot of people are on the streets asking for money. Some people are relying on their savings. The good thing is, the government is giving salaries to their employees. Some company and factory owners have moved to Egypt, Lebanon and Jordan and that means the money has moved to these places."
Abdul remarked that he believes he is supporting the winning side: "I am not depressed about the future because the situation is worse than before, in terms of damages to our country. But in terms of people's minds, I can say now that people have understood that this revolution has damaged us. It's being controlled from outside. A lot of people want Assad to stay."
First broadcast on BBC Radio 4's Today Programme on Friday 15 February 2013.