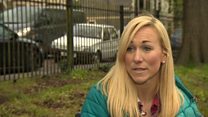 Video
'It felt like I'd burnt my fingertips', says MS sufferer
A multiple sclerosis sufferer has described her first symptoms as a feeling like she had "burnt" her fingertips.
Mother-of-three Fran Caunt, from Cardiff, then realised something was really wrong when she struggled to do up poppers on her newborn's baby grow.
She is one of 5,000 people in Wales living with MS.
Charity MS Society Cymru said about three times as many women as men are being diagnosed with the relapsing remitting form of the illness - with scientists unable to say why.
They have distinct attacks of symptoms - including fatigue, a loss of balance and vision problems - known as relapses which can then fade away either partially or completely.
Go to next video: 'Cannabis helped my frightening tremors'