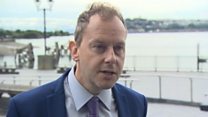 Video
UKIP group 'easier to operate' without Caroline Jones
UKIP's Welsh Assembly group leader Gareth Bennett says it may be for the best that Caroline Jones has quit the party.
The South Wales West AM - who previously led the group before Mr Bennett won a grassroots ballot - said she was uncomfortable with what she claimed was the party's shift to the far right.
UKIP leader Gerard Batten dismissed the claim and accused Mrs Jones of "politically correct twaddle".
Mr Bennett said it was right for people that did not accept the party's core beliefs to "get off the train".
Read more: UKIP AM quits party over 'far-right move'
Go to next video: 'I only joined UKIP to leave the EU'