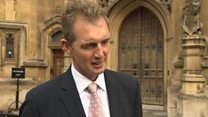 Video
Brexit plan the only compromise that's workable, David Davies says
Welsh Tory backbench MP David Davies denies the party is in crisis as Boris Johnson and David Davis quit the cabinet over Theresa May's latest Brexit plan.
The foreign and Brexit secretaries have resigned despite agreeing to the proposals on Friday along with their cabinet colleagues.
Pro-Brexit MPs have claimed the deal goes too far towards the softest of Brexits.
Mr Davies - who wants a hard Brexit - said the agreement was not perfect, but it was the "only compromise out there that's workable".
Read more: Brexit crisis 'needs general election'
Go to next video: Brexit resignations 'beyond parody'