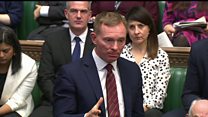 Video
Russia condemned by Labour MP Chris Bryant in sanctions debate
Rhondda MP Chris Bryant has condemned the Russian state as MPs debate the declaration of sanctions in response to the poisoning of former spy Sergei Skripal in Wiltshire.
Prime Minister Theresa May told the Commons that the UK will expel 23 Russian diplomats after the Kremlin refused to explain how a Russian-made nerve agent was used in the attack in Salisbury.
Mrs May said the diplomats, who have a week to leave, were identified as "undeclared intelligence officers".
She also revoked an invitation to Russia's foreign minister, and said no British minister or royalty would attend the Fifa World Cup taking place in Russia later this year.
Russia denies being involved in the attempted murder of Mr Skripal and his daughter.
Mr Bryant, who chairs the all-party parliamentary group on Russia, accused its president Vladimir Putin of running a "security state which keeps its people poor and kills his political opponents".