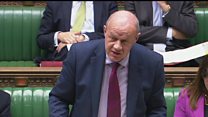 Video
Government preparing for all eventualities on Brexit bill, says Green
First Secretary of State Damian Green has said he hopes talks with the devolved governments of the UK will allow AMs to back a bill transferring EU law into UK law.
But Mr Green, effectively Theresa May's deputy, told MPs ministers were preparing for "all eventualities" on the EU (Withdrawal) Bill.
First Minister Carwyn Jones has previously called the legislation a Westminster "power grab".
But he said he had a "better meeting" with Mr Green on Wednesday, compared to previous discussions with UK ministers, who Mr Jones said were now listening more to Welsh Government concerns.
Go to next video: Damian Green: Remain would have been better