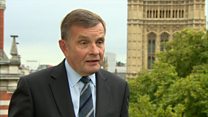 Video
Brexit: Government 'should do sums on no-deal'
The chancellor has been urged to set aside billions of pounds in the budget to prepare for no deal on Brexit, by ex-Brexit minister David Jones.
The Clwyd West MP's call came as Philip Hammond rejected such an option because it could be "a waste of money".
Mr Jones said: "He needs to do the sums and I think he needs to set aside the sums we need... which I would imagine would run into billions of pounds."
Mr Jones warned failure to earmark funds for additional customs staff and infrastructure would leave the UK "scrambling" to implement new border controls if there was no deal.
Go to next video: Brexit: No spending on 'no deal' plan yet