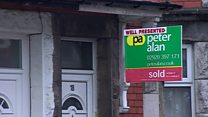 Video
Stamp duty changes: Estate agent's view of the impact
Estate agent David Ricketts says stamp duty changes in Wales could help first-time buyers with a cut but others facing extra tax may put off moving.
Finance Secretary Mark Drakeford said nine out of ten homebuyers in Wales will either pay the same or less tax under the new land transaction tax (LTT), which replaces stamp duty in Wales in April 2018.
LTT will start with a higher threshold of £150,000, resulting in a tax saving of almost £500 on the average house sale in Wales.
But there will be significantly higher rates for house sales above £400,000.
"It is going to be more money to consider when you are purchasing property," Mr Ricketts said.
Go to next video: 'Delivering people's priorities'