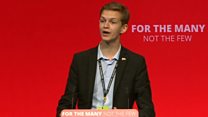 Video
Labour conference: Welsh delegate booed for opposing rule change
Welsh Labour member James Cleverley has been booed at the party's conference after speaking against plans to reduce the role of MPs in choosing the next Labour leader.
While the Labour leader is elected by a ballot of party members, contenders can only by nominated by MPs.
The proportion required is being reduced from 15% of MPs to 10% in a move thought to make it more likely that Jeremy Corbyn's successor will come from the left of the party.
Mr Corbyn only made the list of leadership candidates two years ago after several MPs "lent" him their support.
Mr Cleverley, from Wrexham, was met with both boos and applause when he urged delegates in Brighton to reject the rule change, saying MPs represented the voice of ordinary voters.
Go to next video: Why is Labour changing internal election rules?