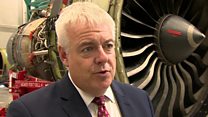 Video
Brexit: EU migration keeps Welsh workers in jobs, Jones says
Wales should be given a quota of EU migrants if numbers are restricted after Brexit, the Welsh Government has said.
Ministers in Cardiff have set out their proposals for how immigration should work after the UK leaves the EU.
Although they would prefer to allow migration to continue for those with a job, a government paper demands a say if restrictions are introduced.
First Minister Carwyn Jones said there were many sectors where employers need overseas workers to run their businesses and keep Welsh workers in jobs.
He claimed it was unscrupulous bosses who drove down wages, not migrant workers.
Go to next video: Jaguar boss: Free trade 'crucially important'