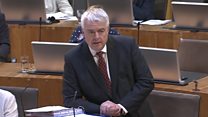 Video
Parking fines for Cardiff hospital staff defended by first minister
Parking rules at Wales' biggest hospital need to be "properly enforced", the first minister has said.
A judge ruled on Friday that private company Indigo could collect charges frm staff at the University Hospital of Wales (UHW) in Cardiff.
The judgement means 75 people with outstanding tickets must pay the debt, which runs into thousands of pounds.
The staff involved say they have permits allowing them to park in designated areas for £1.05 a day, but lack of space meant they often had to park in unauthorised areas.
Carwyn Jones said it was "unfortunate" for them, but said the rules were necessary for reasons of safety.
Go to next video: Staff 'gutted' at losing parking case