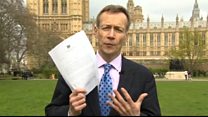 Video
Article 50 letter plays down Brexit power grab fears
Wales can expect a "significant increase" in devolved powers following Brexit, Prime Minister Theresa May has said.
The UK government has officially started the process of leaving the European Union.
In the letter to trigger Article 50 Mrs May said her government would consult on which powers should be devolved.
Brexit negotiations will take "due account of the specific interests of every nation", she added.
BBC Wales parliamentary correspondent David Cornock says the letter strikes a more conciliatory tone than recent public statements on the matter.
Go to next video: Theresa May statement on Article 50