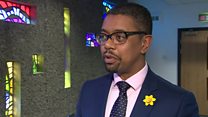 Video
Transforming NHS the real challenge, says Vaughan Gething
The NHS is unlikely to make the choices it needs to have high quality services without a public conversation on "transforming" the health service, health secretary Vaughan Gething has said.
He spoke to BBC Wales after ministers said they would not bail out four health boards which are due to see their overall budget deficits triple in size.
"The real challenge is how do we get into transforming the way we deliver our health service, to look at what is expensive and doesn't deliver the right sort of value, the right sort of quality", he said.
"If we can't have that conversation between clinicians and the public we're unlikely to make the choices we need to have a high quality service that is sustainable in every single sense."