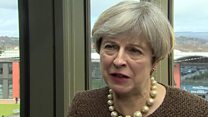 Video
Brexit: Theresa May seeks 'best possible deal for whole UK'
Prime Minister Theresa May is to officially notify the European Union next Wednesday that the UK is leaving.
Downing Street said she would write a letter to the EU's 27 other members, adding that it expected negotiations to then begin as quickly as possible.
Talks on the terms of the departure and future relations are not allowed under the Article 50 process until the UK formally tells the EU it is leaving.
If all goes according to the two year negotiations set out in the official timetable, Brexit should happen in March 2019.
Speaking to the BBC during a visit to Swansea, Mrs May said she would seek the "best possible deal" that "works for everyone across the United Kingdom".
Go to next video: 'Best when governments co-operate'