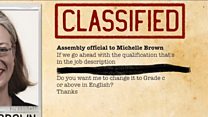 Video
Job advert change to help UKIP AM Michelle Brown's brother
A UKIP AM discussed with an assembly official how an advert for a job in her office could be changed to help her brother get an interview for the post.
Michelle Brown was told that if she used an initial draft of the advert her brother would be "sifted out".
North Wales AM Ms Brown said she had acted with "complete propriety".
The institution released parts of an email exchange about the job advert under the Freedom of Information Act but withheld others, citing data protection. But BBC Wales has seen a full version of the exchange.
An assembly spokeswoman said: "It is entirely appropriate, and within the rules, for members' business support to work with individual assembly members to establish selection criteria and arrangements for a particular appointment."