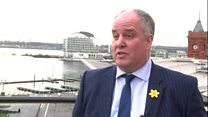 Video
Andrew RT Davies claims Labour AMs split on Article 50
Welsh Conservative leader Andrew RT Davies has claimed that he knows of Labour AMs who wanted to voted differently to the group line not to oppose the triggering of Article 50.
Labour voted against a Plaid Cymru motion in the assembly on Tuesday which opposed the triggering of Article 50 by the UK government without assurances on the European single market.
Mr Davies raised questions over the position of Kirsty Williams, education secretary, after she voted with Plaid Cymru despite the rest of the government sticking with the Labour line.
Article 50 is the part of the EU Lisbon treaty which allows a member state to withdrawal from the European Union. The UK government wants to start the process by the end of the month.
The Conservatives had also voted against the Plaid Cymru motion, as had UKIP.