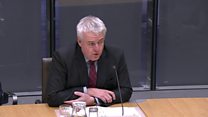 Video
Brexit may mean ID cards for EU workers, Jones says
The first minister has said EU citizens working in the UK after Brexit may need ID cards to prove they have permission to be in the country.
Carwyn Jones was giving evidence to the Welsh Assembly's external affairs committee about the UK's departure from the EU.
He has argued for the UK to enjoy "full and unfettered" access to the single market, in return for concessions on freedom of movement for people with a UK job to come to.
Mr Jones said there may be a need for an ID card to prove such rights - and knew that the UK Government's Brexit Secretary David Davis had opposed the idea of ID cards in the past.
Go to next video: 'The NHS would collapse without us'