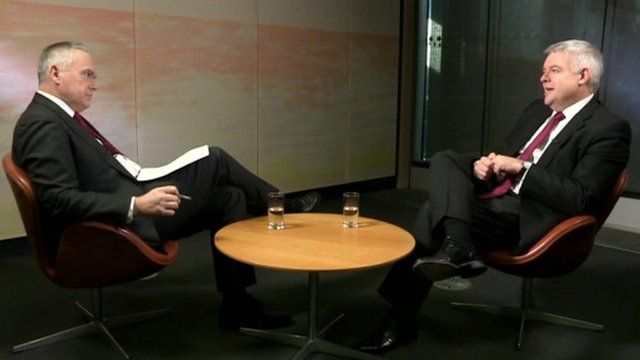 Video
Carwyn Jones: No idea of Welsh Tory view on Brexit
Welsh Conservative leader Andrew RT Davies has denied claims by the first minister that he has not offered to help form the Welsh response to Brexit.
Carwyn Jones made the comments on Wednesday, in an interview with Huw Edwards for The Wales Report programme on BBC Wales TV.
He was asked why Mr Davies and other party leaders had not been invited to help formulate the Labour-Plaid Brexit plan unveiled on Monday.
Mr Jones said: "At no time has he ever said that he wanted to be part of the process to work out what the journey should be for Wales."
In a letter to Mr Jones the Welsh Conservative leader said that was a "distortion" of his views and demanded an apology.
Mr Davies said he had offered on the morning after June's referendum and several times subsequently "to work alongside you to help shape a new landscape for Wales".
A spokesman for the first minister said: "In the seven years of Carwyn Jones being first minister, this is the most ridiculous letter we've ever received.
"But, we will of course respond within 17 working days."
on WETThe Wales Report on BBC Wales TV