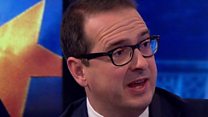 Video
Hard Brexit must be put to public vote, Owen Smith says
AMs do not have to be legally consulted on the Article 50 Brexit process, the Supreme Court has ruled.
Senior judges have said the UK government cannot trigger Brexit without consulting MPs.
But they dismissed an argument from the Welsh Government that the assembly should be consulted on the Article 50 mechanism to leave the EU.
Several Labour MPs have hinted they will disobey an order from party leader Jeremy Corbyn not to oppose triggering Article 50.
But Pontypridd MP Owen Smith, who backed Remain, said if the final deal was for a "hard, hard Brexit", the British public should be given the chance to express their view through another referendum.
Go to next video: 'Not legally compelled' to consult AMs