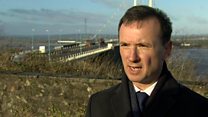 Video
Severn crossing toll cut strikes right balance, Cairns says
Cars, vans and small buses will pay just £3 in tolls when the Severn crossings go into public ownership around 2018, under UK government plans.
The proposed reduction is more than previously suggested, and is less than half the current £6.70 charge for cars.
Ministers are also seeking views on the introduction of a two-way "free-flow", barrier free charging system on the crossings.
A consultation is being launched on the proposals on Friday.
Welsh Secretary Alun Cairns said the toll cut struck the right balance between cutting costs for motorists and keeping enough money back for maintenance.
Go to next video: 'Fantastic for Monmouthshire'