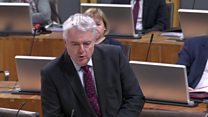 Video
Brexit: Free movement to work 'perfectly reasonable'
First Minister Carwyn Jones has said he thinks people would accept free movement to work as a "perfectly reasonable" price to stay in the European single market.
His comments came after Plaid Cymru leader Leanne Wood claimed UK Labour leader Jeremy Corbyn risked helping the case for a hard Brexit if he did not back freedom of movement as a priority.
Tackled on the issue in First Minister's Questions, Mr Jones was not asked about his party leader's stance.
But he spoke about his visit to non-EU Norway, which accepted freedom of movement to work in return for single market membership.
Go to next video: Corbyn on immigration and maximum wage