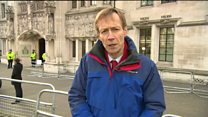 Video
Brexit trigger could undermine devolution, Welsh Government claims
Allowing the UK government to trigger Brexit without consulting MPs could threaten the basis for devolution, the Welsh Government has claimed.
The Supreme Court has begun hearing the UK government's appeal against a High Court ruling that it needs the consent of Parliament to launch the Article 50 process of leaving the European Union.
The Welsh Government has been allowed to submit its view, with Counsel General Mick Antoniw saying his aim was to uphold democracy and the rule of law.
BBC Wales parliamentary correspondent David Cornock reports from the Supreme Court.
Go to next video: Live: Brexit Supreme Court case