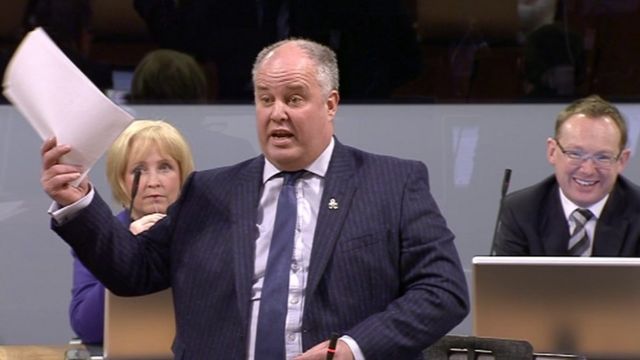 Video
Circuit of Wales: Jones and Davies clash on payments
Andrew RT Davies has challenged First Minister Carwyn Jones on invoices the Conservatives obtained which Mr Davies said showed payments made by a firm linked to the Circuit of Wales to the Labour Party.
Mr Davies made the claims in First Minister's Questions on Tuesday.
Aventa was paid by Circuit of Wales firm, the Heads of the Valleys Development Company (HOVDC), to help find investors.
The company is owned by Michael Carrick, who set up HOVDC.
Mr Jones said: "If he's suggesting that in some way it was possible for the company to sponsor events in order to get the decision they wanted, they didn't, did they?
"The whole point was, if it was the case that somehow influence could be bought they would have had the funding for the Circuit of Wales by now. That's not the situation that occurred."