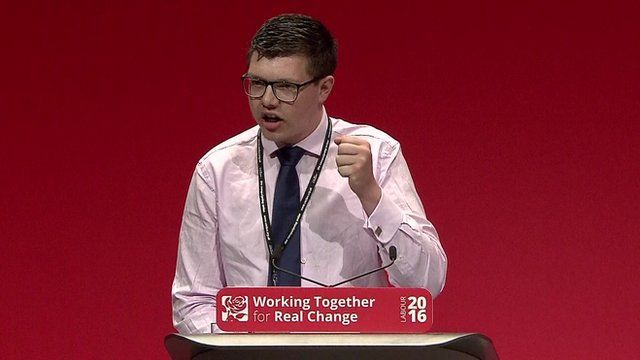 Video
Youth mayor booed at Labour conference
A Welsh delegate at the Labour conference has been booed after questioning Jeremy Corbyn's appeal as leader.
Bridgend youth mayor Matthew van Rooyen said: "We have got Jeremy Corbyn as leader, whether we like it or not."
He was speaking during a debate on plans to give Welsh Labour more autonomy within the UK party.
The proposals include a seat on Labour's ruling national executive committee.
Supporters of Mr Corbyn have opposed allowing Welsh Labour leader Carwyn Jones to nominate the Welsh representative and want that person elected by party members.
Some delegates tried to delay a vote on the proposals, prompting a debate on whether to have a debate.
Mr van Rooyen, who was speaking at his first party conference, said it was a "shame" that some people were trying to block the debate.
Conference chair Paddy Lillis rebuked delegates for booing, saying they should be respectful to speakers.