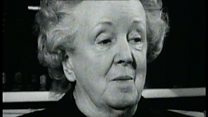 Video
How David Lloyd George's governess became his mistress
David Lloyd George's mistress of 30 years describes how her relationship established with the former prime minister.
Frances Stevenson became Lloyd George's private secretary, most trusted confidante and mistress before finally becoming his second wife, 15 months before his death.
Ms Stevenson had been a personal tutor to Lloyd George's daughter Megan and was a governess at her school before Lloyd George invited her onto his personal staff.
Britain's World War One leader became the only Welsh prime minister 100 years ago this week.
Archive footage that is part of a documentary by great-great grandson Dan Snow revealed how the relationship began.