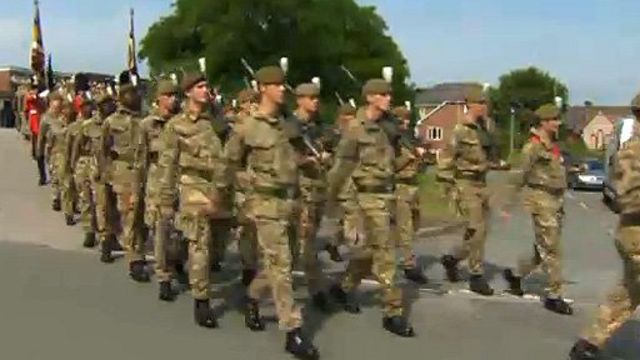 Video
Royal Welsh regiment's parade through Flint
Flintshire Council has marked the fourth anniversary of granting the freedom of the county to the regiment of the Royal Welsh with a celebratory parade through Flint.
Crowds turned out to applaud the regiment, led by the volunteer band of the Mercian Regiment, through the streets from the Royal British Legion.
It also marked the signing of the Flintshire Armed Forces Community Covenant at the Town Hall earlier in the morning.
Four years ago this month, the Royal Welsh regimental band led a parade with over 120 soldiers through Mold and local people lined the streets to support the event.
Council leader Aaron Shotton said: "2013 will be the year that Flintshire reaffirms its commitment to Armed Forces personnel, families and veterans.
"I hope the people of Flintshire and beyond will lend their support to these events."