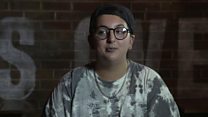 Video
STI rise in Wales: What do young people think of safe sex?
Dating apps and a lack of funding are behind a spike in sexually transmitted infections in Wales, a health expert has said.
Cases of syphilis rose by 53% from 2016 to 2017 and diagnoses of gonorrhoea went up 21%, according to Public Health Wales' latest figures.
Dr Olwen Williams, president of the British Association of Sexual Health and HIV, said: "Certainly in my career I've never seen so much gonorrhoea or syphilis, ever."
The Welsh Government said it will fund a number of sexual health projects.
But are STIs a concern? We spoke to four people to see what their approach was to safe sex.
Go to next video: Koala chlamydia vaccine possible