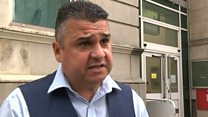 Video
Cardiff Hinkley mud dumping legal case 'a score draw'
A leading opponent of Hinkley C mud dumping off Cardiff Bay has called the end of a legal case "a score draw".
Independent AM Neil McEvoy said the challenge had established that an environmental impact assessment (EIA) into the dumping in Cardiff Grounds did not exist.
It has also led to an Assembly debate - and a vote - being arranged for next week.
About 300,000 tonnes is being dredged from the seabed near the Hinkley Point C building site in Somerset.
But both developers EDF and NRW insist independent tests have shown the sediment poses no risk.
The legal action was not about testing but whether an EIA was needed for the dumping to go ahead.
Mr McEvoy and campaigner - the Super Furry Animals musician Cian Ciaran - said it had established a principle.
Go to next video: Opposing Hinkley mud claims put forward