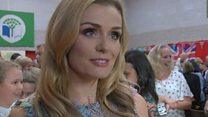 Video
Katherine Jenkins surprises Cardiff primary school pupils
Welsh singer Katherine Jenkins has surprised pupils at a Cardiff primary school, when she turned up to hand them a special award.
The mezzo soprano was at Thornhill Primary to celebrate the children's success after they won a prize for a project commemorating World War One.
The school was awarded the Best Education Project 2018 by the National Lottery for their intergenerational event.
Schoolchildren had teamed-up with the Goldie Cymru - a group that helps older people get involved in music.
Thornhill pupils wrote a 30-minute musical marking the war in a production called Armistice Cantata - which will now be performed by other schools across Wales and England.
Go to next video: Singer's surprise for dying man