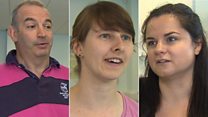 Video
Why are these people studying medicine in Swansea?
There has been a big jump in students from Wales starting to study medicine at UK universities, according to latest figures.
The number of students opting to train as doctors from Wales is at its highest level for at least 10 years.
Wales' two medical schools at Cardiff and Swansea Universities have both welcomed the increases and said a variety of schemes to improve the competiveness of Welsh students was paying off.
Second year graduate students Hayley Bainbridge, Alice Eaton and Alex Brown had gained a degree before embarking on medical training in Swansea.
But what attracted them to Wales - and will they stay once they are qualified?
Go to next video: 'Patients ask me if I'm the doctor'