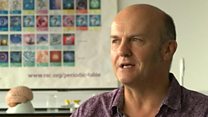 Video
' We need to learn digital hygiene'
Techniques borrowed from video games such as Fortnite could transfer to the classroom to make lessons more engaging, says an education expert.
The survival and shooting game has proved hugely popular since it was launched in 2017.
But some primary schools in Wales have contacted parents to draw attention to guidance about the 12+-rated game.
One head teacher said some children play it late into the night which has a "huge impact on their learning".
Paul Howard Jones, a former Estyn school inspector, is a professor of neuroscience and education and has been researching the role of technology, including in gaming, in education.
He says there has been a "demonising of technology" and while it's important to be aware of the negatives, he says "it's not the technology - it's the way that you use it".
Go to next video: Gaming addiction defined as disorder