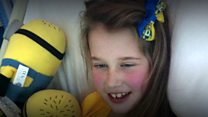 Video
Boy, 10, opens park in memory of friend in Neath
"I just thought I've had loads of happy memories in the park, so why can't Rhianna have any?".
When Rhianna Chellew was diagnosed with an inoperable brain tumour, Kobi Barrow wanted to do something for her.
The 10-year-old, then aged eight, set about creating a park which could be used by disabled and able-bodied children so that they could play together.
He thought of the idea when Rhianna had to travel about three hours to play in a park as she was in a wheelchair.
Rhianna died in 2016 meaning she never got to play in the park, which Kobi raised £85,000 to build in Neath.
Go to next video: The show where the audience gets wet